Testimonial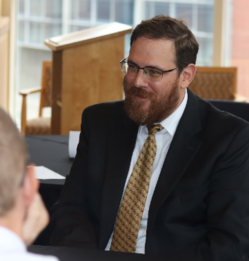 "Glad to be a University of Maryland Baltimore PALLA Fellow. This is innovative project by Mary Jo Bondy, Shani Fleming, and Karen Gordes needs to be replicated throughout the PA universe. Thanks to Frostburg State University PA Program Director Beth Smolko, DMSc, PA-C for nominating me for this transformational experience."
David J. Bunnell, MSMS, PA-C
The Physician Assistant Leadership and Learning Academy (PALLA) is actively recruiting individuals who are interested in pursuing a career as a Physician Assistant (PA) academic in higher education. Now in its fifth year, the PALLA fellowship is a unique opportunity for practicing PAs to engage in a 10-month, structured, professional development training program using active-learning experiences and case-based design to develop the essential skills needed by a PA faculty member in the areas of teaching, scholarship and service.
The vision of PALLA is to create an inclusive learning community dedicated to excellence in PA education. PALLA aims to build faculty capacity within Maryland to educate the next generation of PA students while advancing PA research and policy. PALLA collaborates with the Maryland System PA programs consisting of Frostburg State University, Towson University/Community College of Baltimore County, University of Maryland Baltimore/Anne Arundel Community College, and the University of Maryland Eastern Shore.
Fellows will participate in virtual seminars, workshops and individual-group mentorship delivered by an interprofessional team of educators/scholars, exploring important topic areas such as adult learning theories, curricular design and development, instructional strategies, learning assessments, best practices in simulation, PA program accreditation, the scholarship of teaching and learning, and academic leadership within PA education.
PALLA is centrally located at the University of Maryland, Baltimore (UMB). UMB is the founding campus of the University System of Maryland and serves as Maryland's public health, law, and human services university. UMB is uniquely positioned to apply principles of innovation and entrepreneurship to advance health and social equality.
The objectives of the Faculty Fellowship program are to: 
Encourage and promote educational excellence, leadership and diversity in the pool of faculty for Maryland Physician Assistant Programs.

Introduce community clinicians who are considering faculty careers to the Physician Assistant academic community. 

Enhance opportunities for academic careers for persons from diverse backgrounds who have demonstrated a commitment to educating the next generation of Physician Assistants.

Prepare Faculty Fellows for possible tenure-track or non-tenure track appointments at one of the PA programs in Maryland.

Enhance the academic environment of Physician Assistant education in Maryland by providing opportunities for students and faculty to gain experience in multi-cultural, broadly diverse and inclusive work settings and scholarly collaborations that improve the capacity of all their members.