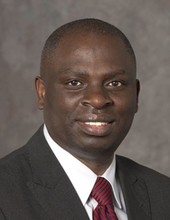 Gerald Kayingo, PhD, MBA, PA-C, DFAAPA
Executive Director, Assistant Dean and Professor
Gerald Kayingo is the executive director of the Physician Assistant Leadership and Learning Academy (PALLA) and an assistant dean and professor at the graduate school at the University of Maryland. Professor Kayingo previously worked at the University of California Davis where he served in various capacities including director of the Master of Health Services-PA program. Prior to his UC Davis appointment in 2014, he was a faculty member at the Yale School of Medicine Physician Associate Program and practiced at the Yale New Haven Hospital Primary Care Center in Connecticut. Kayingo has extensive experience in scholarship, education, leadership, clinical practice and global health. His research interests relate to health professions education, health systems science, and the intersection of infectious diseases and substance use disorders. (addiction). His clinical interests are in primary care settings as well as advancing rural and global health.
He is a graduate of the Harvard Management Development Program (MDP) following a Master of Medical Science-Physician Assistant Degree at Yale University School of Medicine in Connecticut and a Doctor of Philosophy in Microbiology from Orange Free State University in South Africa. He completed his postdoctoral education in Infectious Diseases at Yale University School of Medicine, where he studied microbial pathogenesis, membrane transport and signal transduction. He is in the process of completing his Master of Business Administration (MBA) at the University of Illinois Urbana-Champaign, specializing in strategic leadership and management.
Nationally, Kayingo has served as a director at large on the PAEA Board of Directors, member of the editorial board for the Journal of Physician Assistant Education and associate editor of BMC Health Services Research. He was a pioneering member of the Commission on the Health of the Public and served on the national health disparities working group for the American Academy of Physician Assistants. He was recently inducted into the prestigious Uganda National Academy of Sciences. Kayingo has co-authored three books on health professions education and published extensively on health systems science and infectious diseases in peer reviewed journals. He is a recipient of several awards, including a university book prize, the 2016 PA Student Academy mentor award, the 2015 AAPA Research Publishing Award and the 2014 Jack Cole Society Award at Yale.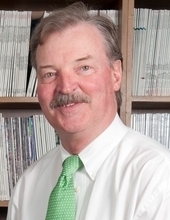 James F. Cawley, MPH, PA-C, DHL (hon)
Professor and Scholar-in-Residence
James Cawley is Professor and Scholar-in-Residence in the Physician Assistant Leadership and Learning Academy (PALLA) in the Graduate School at the University of Maryland Baltimore. He is also Professor of PA Practice in the College of Medicine at the Florida State University. Cawley worked for nearly 40 years at The George Washington University and is Professor Emeritus and past Chair of the Department of Prevention and Community Health in the Milken Institute School of Public Health at GW. He began his career as a primary care PA at The Johns Hopkins Hospital, earned his MPH in infectious disease epidemiology from the Hopkins Bloomberg School of Public Health, and pursued doctoral study in health policy at The George Washington University. In 2013, he was awarded an honorary Doctor of Humane Letters degree by the Philadelphia College of Osteopathic Medicine. Cawley has also held faculty appointments on the PA faculty at Johns Hopkins, Stony Brook University, and Yale University School of Medicine. Cawley has co-authored five books on PAs and published extensively on the PA profession and health workforce policy. He is a past President of the Physician Assistant Education Association and has served as Senior Research Fellow at the American Academy of Physician Assistants In 2011 received the prestigious Eugene A. Stead Award of Achievement from the AAPA.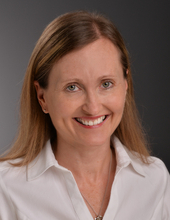 Roisin Donegan, MS
Clinical Partnerships Coordinator
Roisin Donegan is the Clinical Partnerships Coordinator for the Physician Assistant Leadership and Learning Academy (PALLA) with the Graduate School at the University of Maryland.
Roisin possesses broad experience across the Higher Education, Software Education, Science Recruitment, and Training fields in Maryland, California, and Ireland.
A strong advocate of Experiential Learning, Roisin is committed to supporting student advancement and adept at delivering program management goals and objectives. She is an effective communicator and skilled at relationship building and enhancing collaborative endeavors. Roisin is solution orientated, process-driven, and an innovative project manager.
Roisin earned a Bachelor of Arts degree in Psychology from University College Dublin and a Masters in Human Resource Management from the University of Maryland Global Campus.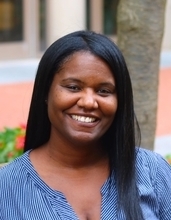 Shani Fleming, MS, MPH, PA-C
Associate Professor and Chief Equity, Diversity and Inclusion officer

Shani Fleming has devoted her career to promoting cultural competence and addressing social justice within the healthcare community. Professor Fleming holds significant clinical experience as a Physician Assistant, including working in family medicine, adolescent medicine, infectious disease, and urgent care. She teaches at the University of Maryland, Baltimore (UMB) Graduate School PA program, and Intercultural Leadership certificate program. Ms. Fleming represents UMB graduate school faculty as a member of the President's Diversity Advisory Council. She serves on the executive leadership team of the Physician Assistant Leadership and Learning Academy, promoting a culture of inclusive, educational excellence. Prof. Fleming has a tremendous amount of experience in academia, developing curriculum maps, course and instructional objectives, learning outcomes, and assessments aligned with program milestones, competencies, and graduate outcomes. She has Quality Matters certification for online learning management systems and experience teaching many online and web-enhanced courses. She is considered a diversity and inclusion leader within National and State organizations, reaching thousands of underrepresented racial and ethnic high school and college students advocating for inclusion, diversity, and equity in PA education. She advocates for faculty of color within PA programs and encourages inclusive and just environments for faculty, staff, and students. Prof. Fleming is currently pursuing her Ph.D. in Language, Literacy, and Culture from the University of Maryland Baltimore County.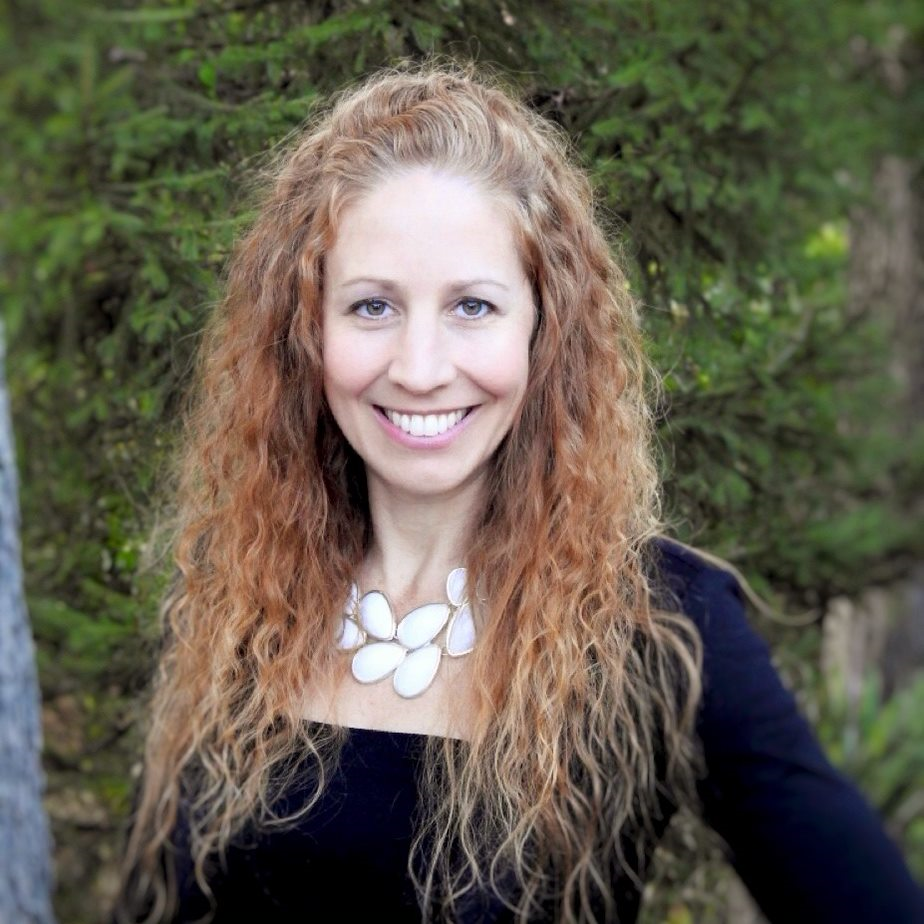 Karen L. Gordes, PhD, PT, DScPT
Associate Professor, Chief Learning Officer and Health Professions Education MS Program Director
Dr. Gordes is the Chief Learning Officer for PALLA, the Health Professions Education MS Program Director and an Associate Professor in the Graduate School at the University of Maryland Baltimore. In her role, she collaborates with strategic partners to develop programs and initiatives for faculty development in the area of academic leadership across health profession education programs. Before coming to the Graduate School, Professor Gordes served in a variety of administrative and faculty capacities at the University of Maryland School of Medicine including Director of Faculty and Student Affairs, and Director of Clinical Education for the Department of Physical Therapy and Rehabilitation Science. Her research interests related to health professions education include interdisciplinary education, faculty workforce development and the evaluation of strategies for promoting student academic success and retention in higher education. Highlights of her experience in education leadership include leading the development and execution of a 10-month longitudinal faculty fellowship, building an expansive online educational resource platform for faculty, delivering statewide faculty development workshops and providing individualized mentorship to faculty across educational programs. Professor Gordes has two decades of teaching experience in a variety of subject matters such as interprofessional education, the musculoskeletal system, research seminar, critical appraisal, and the evaluation and synthesis of literature.
Dr. Gordes received her B.S., M.S. and Doctorate of Science in Physical Therapy from the University of Maryland School of Medicine, and her Ph.D. in Public Policy with a specialization in Evaluation and Analytical Methods, at the University of Maryland Baltimore County. She is a graduate of the APTA Education Leadership Institute Fellowship. She has completed both the UMBrella and Emerging Leaders leadership training programs at the University of Maryland Baltimore.
Nationally, Dr. Gordes has served in the role of Technology & Education feature editor for the Journal of Physician Assistant Education, committee member for the PAEA Doctoral Steering Committee and as an item writer for the National Physical Therapy Examination. Dr. Gordes has provided service to the state through her appointment to the Maryland Board of Physical Therapy Examiners, and functioned in the role of Chair, Vice Chair, and Compact Delegate. She is the recipient of several awards including, the 2023 Distinguished Educators Award for Outstanding Educational Scholarship, the 2020 Adjunct Faculty of the Year Award, a 2018 President's Interprofessional Education Scholar Award and the 2013 Faculty of the Year Award, all at the University of Maryland Baltimore.
Erin Hagar, MA, MFA
Senior Academic Support Coordinator
Erin Hagar is an instructional designer who has worked in higher education for over twenty years. After teaching Spanish at American University, she held instructional design positions at the World Bank, Montgomery College, and Johns Hopkins University before finding her home at UMB.  Her passions include helping faculty discover active learning strategies that work for them, designing authentic assessments that mirror the real-world application of knowledge, and the impact of the social and emotional environment on learning.  On the PALLA team, Erin help design the curriculum for the PALLA fellows and provide input on faculty development activities for PA educators across the state.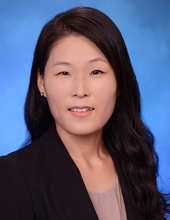 Hyun-Jin Jun, PhD, MSW
Assistant Professor
Hyun-Jin Jun is an Assistant Professor of the Health Professions Education (HPE) program at the University of Maryland Baltimore (UMB) Graduate School. She completed her Bachelor of Social Work (BSW) and Master of Social Work (MSW) at Chung-Ang University in South Korea. She received her second MSW from Washington University in St. Louis and her Doctor of Philosophy (PhD) in Social Work from the UMB where she served as a post-doctoral fellow.
Her research focuses primarily on the intersection of health, behavioral health, and associated addictive/risk behaviors in adolescents and adults, with particular attention towards implications for prevention. Specifically, she has been conducting research on complex relations among addictive/risk behaviors and health and mental health comorbidity. Her interests include enhancing capacity and competence for interdisciplinary health professions educators, scholars, and researchers to develop the skills needed for evidence-based teaching, research, and service expected of the professoriate. She is also interested in development, assessment, and evaluation of innovative educational curricula/programs. Her extensive interdisciplinary research experiences have given her a diverse set of methodological and analytical skills related to both qualitative and quantitative research.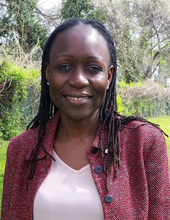 Violet Kulo, EDD, MS, MA
Associate Professor and Health Professions Education PhD Program Director
Violet Kulo is the Health Professions Education PhD program director and an Associate Professor in the Graduate School at the University of Maryland Baltimore. Before coming to UMB, she worked at the Johns Hopkins University School of Medicine for 9 years. She was responsible for overseeing curriculum mapping, medical student assessment, and program evaluation in the pre-clinical curriculum. Dr. Kulo's research interests include instructional design, learner engagement, student assessment, and evaluation of innovative educational programs. She is passionate about preparing competent, effective, and exemplary interprofessional health professions educators, leaders, and researchers. Dr. Kulo received her BEd in Mathematics and Economics from Moi University in Kenya, MA in Mathematics from Morgan State University, and her MS and EdD in Instructional Design and Technology from Lehigh University.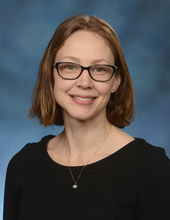 Emilie Ludeman, MSLIS
Research, Education and Outreach Librarian
Emilie Ludeman has worked as a Research and Education Librarian, at the Health Sciences and Human Services Library, since 2011. Her extensive experience includes expert literature searching, systematic review collaborations, faculty research support, and teaching and consulting with students. Emilie helped design and co-teach the writing and library research class for the PA program at UMB, Introduction to Library Resources and Scholarly Writing. She holds an M.S. in Library and Information Science from Drexel University.
Áine McLaughlin, MS
Senior Strategic Communications Specialist
Áine McLaughlin is Senior Strategic Communications Specialist at the University of Maryland Baltimore (UMB). She received a Bachelor of Arts in English, Writing and Studio Art from Loyola University Maryland in 2014, and completed a Master of Library and Information Science at University of Maryland College Park in 2020. Áine's professional background includes working as a field organizer and communications professional with both local and national labor unions and affiliated nonprofits.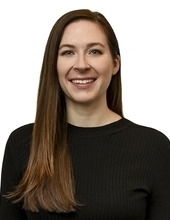 Sarah Porter, PA-C,
Research Fellow
Sarah Porter, PA-C, graduated from the University of Richmond with a Bachelor of Science degree in Biology and a minor in Environmental Studies. She went on to earn her Masters of Physician Assistant Studies in Manchester, NH from the Massachusetts College of Pharmacy and Health Sciences. After graduating, she began working in Dermatology, first practicing in New York City and now in Alexandria, VA. She is passionate about patient education, particularly regarding skin cancer detection and prevention. Sarah enjoys teaching and currently mentors new graduates interested in medicine as part of a bridge program.
Elizabeth Healey
Academic Administrative Specialist
Eliza Healey is the Academic Service Specialist for the Physician Assistant Leadership and Learning Academy (PALLA) with the Graduate School at the University of Maryland Baltimore. She provides administrative and operational support for the program, the team and PALLA fellows.
Eliza received her Bachelor of Science in Interdisciplinary Studies from Towson University in 2020. She has over 20 years of administrative experience including more than 5 years of experience of academic support for Towson University and the University of Pennsylvania.
Andrew Stakem
Program Evaluation, Data Analytics and Accreditation Specialist
Andrew Stakem supports PALLA as the Program Evaluation, Data Analytics and Accreditation Specialist. He is responsible for coordinating and supporting the ongoing accreditation processes for PALLA and associated Physician Assistant (PA) programs in the state of Maryland. Andrew joins us from Johns Hopkins University (JHU) where he worked as an Academic Services Specialist. Prior to JHU, Andrew worked at 2U Inc, Laureate and Cognizant Technology Solutions. He brings a wealth of experience in both private and public academic settings.