Testimonial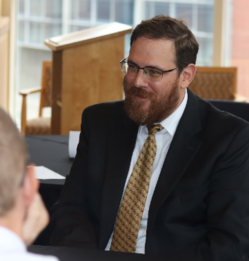 "Glad to be a University of Maryland Baltimore PALLA Fellow. This is innovative project by Mary Jo Bondy, Shani Fleming, and Karen Gordes needs to be replicated throughout the PA universe. Thanks to Frostburg State University PA Program Director Beth Smolko, DMSc, PA-C for nominating me for this transformational experience."
David J. Bunnell, MSMS, PA-C
The Faculty Fellowship program is designed to help licensed Physician Assistants build a teaching and scholarship portfolio to prepare them for future faculty appointments. Each fellow will serve a 10-month term and will receive a 10-month stipend of $25,000 to offset clinical practice time and use towards conference travel and other expenses.
The objectives of the Faculty Fellowship program are to: 
Encourage and promote educational excellence, leadership and diversity in the pool of faculty for Maryland Physician Assistant Programs.

Introduce community clinicians who are considering faculty careers to the Physician Assistant academic community. 

Enhance opportunities for academic careers for persons from diverse backgrounds who have demonstrated a commitment to educating the next generation of Physician Assistants.

Prepare Faculty Fellows for possible tenure-track or non-tenure track appointments at one of the PA programs in Maryland.

Enhance the academic environment of Physician Assistant education in Maryland by providing opportunities for students and faculty to gain experience in multi-cultural, broadly diverse and inclusive work settings and scholarly collaborations that improve the capacity of all their members.